Eggs in Purgatory (Paleo, Gluten Free, Dairy Free, Whole30 option)
THIS IS EXCITING! If you've followed me on instagram (you should!) you know that I'm very specific about the meat I use. One of my absolute favorite brands is Mulay's. It is quality sourced, certified with Kitchens with Confidence (certified free from 8 major allergens), Paleo friendly, certified by the National Celiac Association, AND a woman owned company. This is such important information if you or someone who love suffers from a life threatening allergy. I'm absolutely obsessed with their meats! In fact, they are my go-to and I always have several pounds (at least!) in my freezer. I love connecting with companies and learning more about them. It makes such a huge difference to me when I feel like I can trust them and trust that what I'm feeding my family is going to fuel and not harm them, which is how I feel about Mulay's.
This week they're releasing their NEW allergen friendly meatballs! They. are. so. good! They sent me some to try and I've honestly never had better meatballs. All without dairy, gluten, or eggs?! I can't even hardly believe it! Bonus: I didn't have to make them! So, to celebrate this exciting launch, I've created a special recipe: Eggs in Purgatory.
Don't let the name get you- these are the BOMB. What are eggs in purgatory? They're basically eggs in a delicious tomato sauce. You know I had to add meatballs to this delicious ONE PAN dinner! The hardest part about this dinner is chopping up your veggies. If you have a teenager at home I would suggest getting them to help you chop…. or send them to my house.
If you haven't heard of Mulay's before, I'm so glad to introduce you! I get my Mulay's at Natural Grocers in the frozen meat section. I would recommend their meatballs of course, but also their breakfast sausage and my most favorite, their maple breakfast sausage. Enjoy!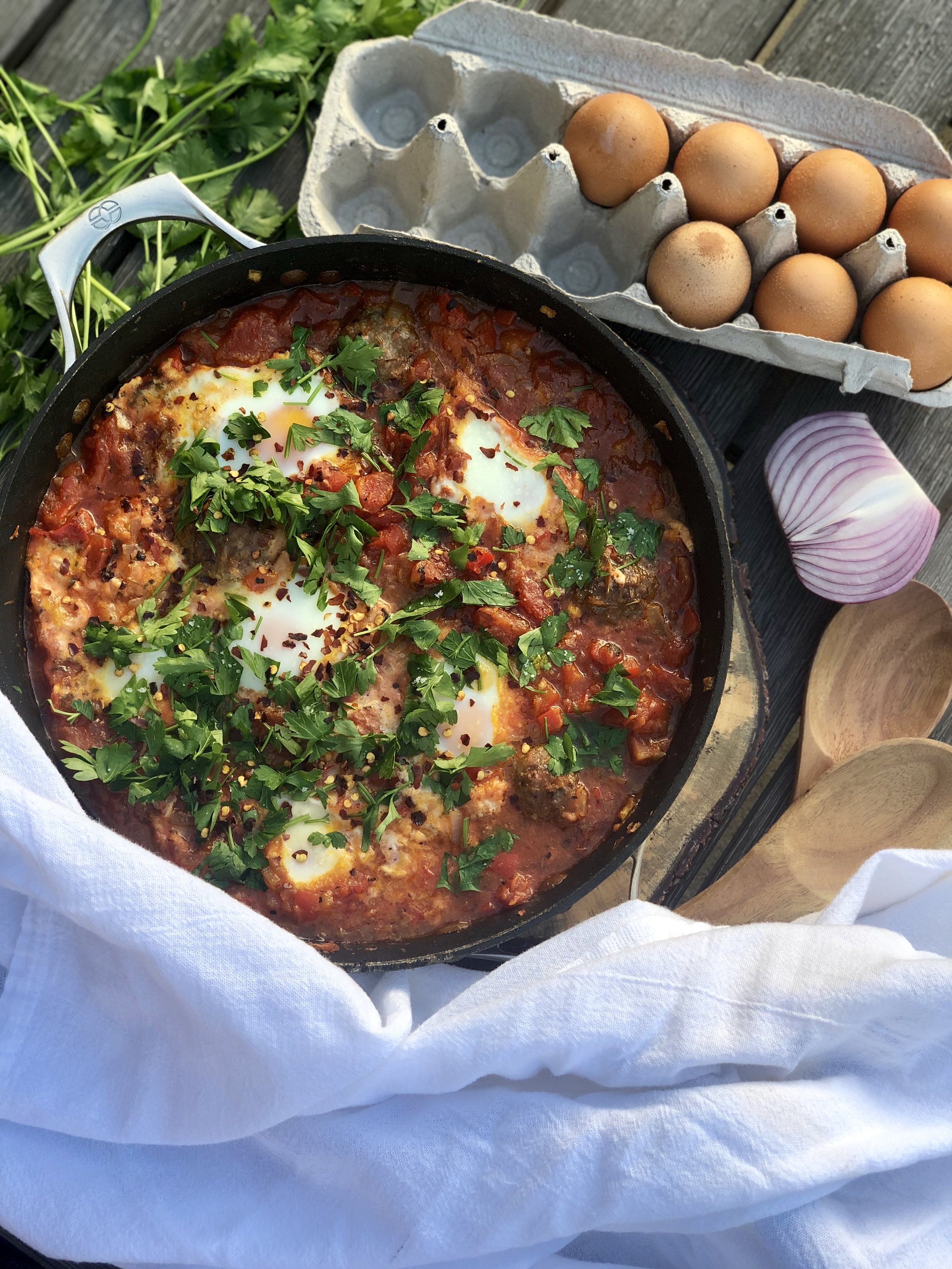 Eggs in Purgatory
prep time: 15 M
cook time: 20 M
total time: 35 M
ingredients:
1T avocado oil
1 package Mulay's meatballs
1T ghee
2 red bell peppers, diced
1 yellow onion, diced
1/2 red onion, diced
2 garlic cloves, grated
1/2c shredded carrots- about 3 carrots
1 28oz can of fire roasted diced (or crushed) tomatoes
1 14.5oz can of diced tomatoes
1t salt
1t italian seasoning
1/3c dry white wine (omit for Whole30)
6 eggs
Parsley and crushed red pepper, to taste
instructions:
How to cook Eggs in Purgatory
For the meatballs
Preheat avocado oil in a skillet on medium high heat. Add meatballs and cook until browned. Transfer to a plate to rest.
For the sauce
After browning meatballs and removing from the pan, add ghee to hot pan. Turn down the heat to medium low. Add bell peppers, onions, garlic, and carrots and cook until tender (about 10 minutes). Add salt and stir. Add tomatoes. Add white wine. Add Italian seasoning. Stir.
Add meatballs back to the pan (and their juices!!!). Place the lid on pot and let simmer while the oven heats up. Turn oven to 350F.
Using a spoon, make little holes in the sauce for the eggs. Crack eggs and place pan in 350F oven for 20-30 minutes, depending on desired doneness of eggs. Remove and season with sea salt, crushed red pepper, and parsley.