Leftover Makeover- Empanadas (Paleo, GF, DF, Nut free option)
I used to HATE leftovers. In fact, I used to call them "scraps" when I was a kiddo. Sorry for calling your food scraps, Mom. 🤭 BUT, when I started living a Paleo/Whole30/whole food/clean eating lifestyle (whatever you want to call it), I realized leftovers were not a bad thing! Actually, they're an opportunity to get creative and HELLO, have prepped food.
I have been wanting to make paleo empanadas for a while now because they are my favorite thing at a certain chain mexican restaurant. But I have a sneaking suspicious that they are premade and filled with ingredients that I just don't want to put in my body. So here we go. I've tried make this recipe several times and these have turned out the best. The best part is they are perfect for a weeknight leftover makeover. Take your leftover CARNITAS, and make them into something new and exciting!
To make these, I bought a pizza dough mix from Simple Mills. It's one of my favorite paleo/grain free/gluten free/dairy free brands. Not everything is dairy free so keep an eye on ingredients if you have an allergy. Their pizza dough is! To make this recipe nut free, use a frozen pizza dough or nut free mix like this one. All I did was rolled out the mix in between two pieces of parchment paper, used a large cookie cutter, and filled with veggies and meat from my carnitas. Gently fold them so they're a dumpling shape. Then, spray a wire rack and place on a cookie sheet and place empanadas on top. Brush with egg wash and bake for 20 minutes. For a REAL treat, add cheese or dip in plant based cheese dip!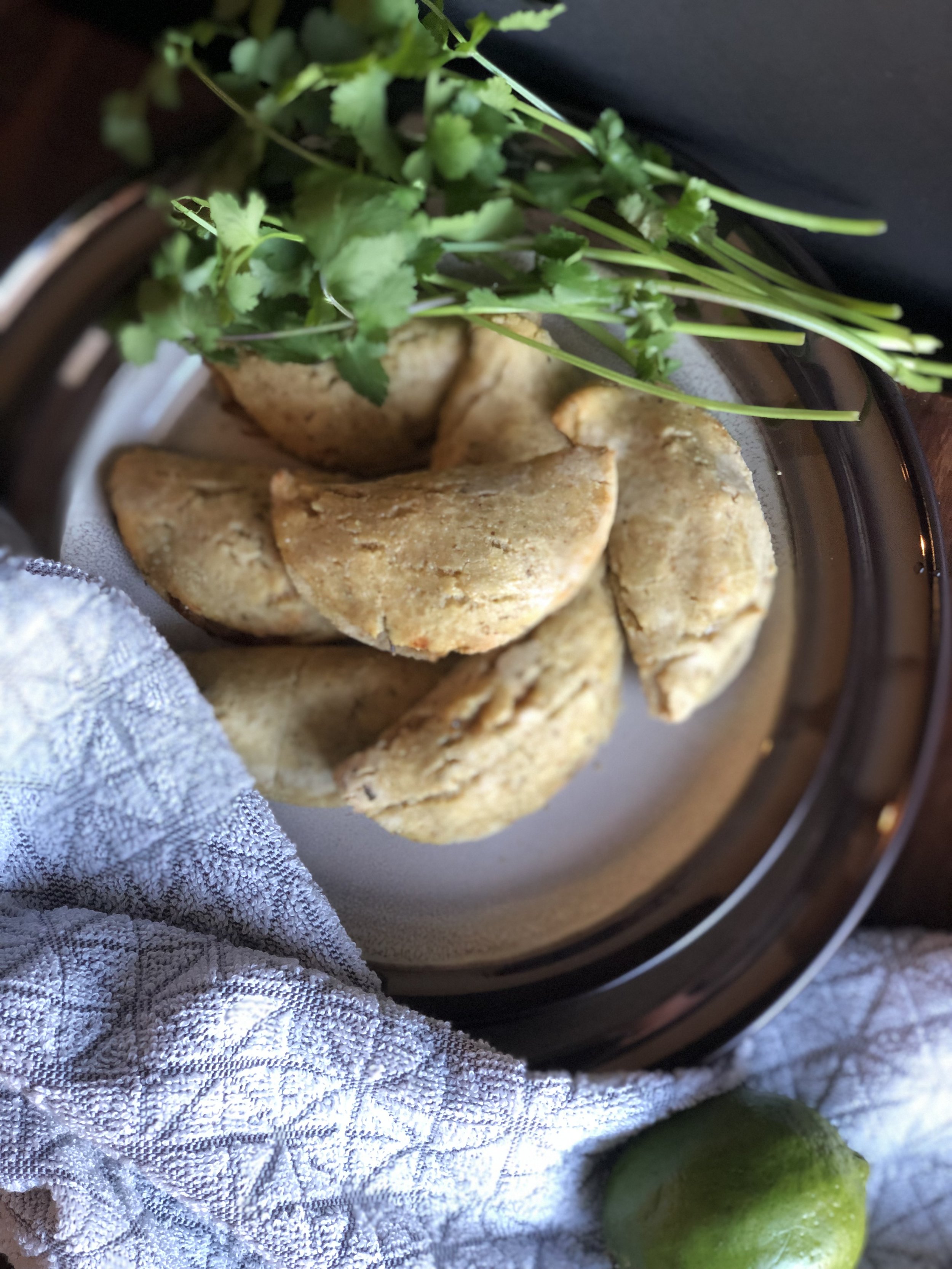 Paleo Empanadas
prep time: 15 M
cook time: 20 M
total time: 35 M
instructions:
Preheat oven to 350F. Mix pizza dough according to the box instructions. Roll out between two pieces of parchment paper to 1/2" thick. Use a large cookie cutter to cut out circles of dough. Fill the circle with meat and veggies from leftovers. Be sure not to overfill or the empanada will break when you close it! Fold empanada over and pinch closed.
Whisk egg and water together and brush over empanadas.
Put wire rack on cookie sheet and spray with oil. Bake for 20 minutes or until golden brown. Enjoy with salsa, cheese dip, or plant based cheese dip.