Funfetti Cheesecake Bars (Paleo, GF, DF)
It's almost Easter! And Easter is the perfect time to eat pretty, pastel treats as we celebrate the risen King! I wanted to create funfetti cheesecake bars that are grain free, dairy free, and paleo and I've done it! 🙌 They're creamy and you would NEVER know that they're free of all that junk in store bought and processed cheesecake. Bonus: you can add any extras that are your favorite- lookin' at you blueberries, strawberries, and chocolate chips. You're going to love them!
I was able to find sprinkles made out of cane sugar and colored with plants. You can buy yours HERE. The secret to these cheesecake bars is whipping them in the standing mixer or with the hand mixer (I would recommend standing mixer). It makes them creamy, light, and fluffy. Everything cheesecake should be! Sweetened with only maple syrup, these are going to be the HIT of your Easter brunch. My husband even said they taste just like the real thing! High praise! I hope you love them. Remember to tag me if you make one of my recipes! Happy Easter, friends! 🙏🐣🐰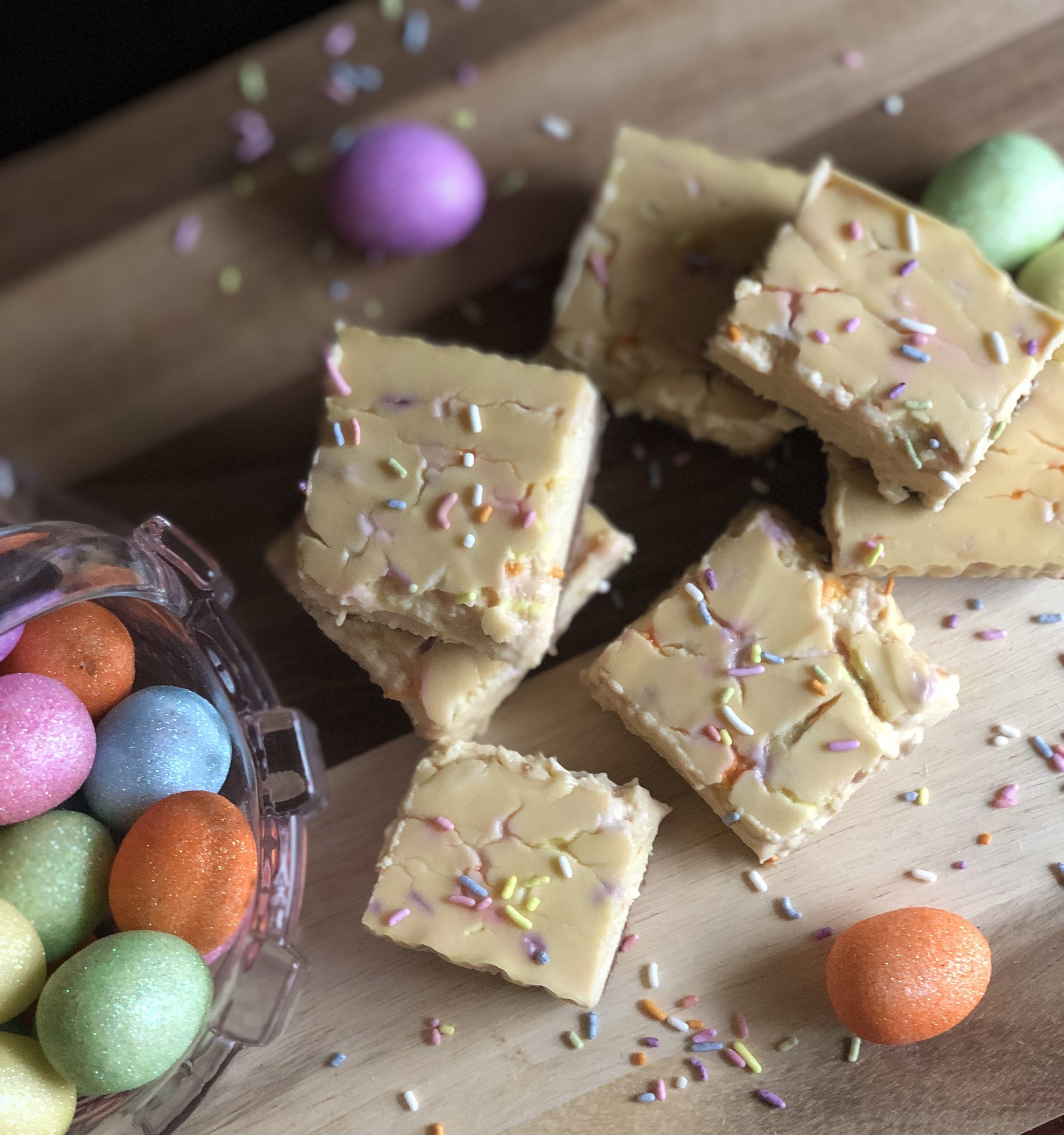 Funfetti Cheesecake Bars
prep time: 5 M
cook time: 40 M
total time: 45 M
instructions:
For the crust
Preheat oven to 350F. Place cookies in food processor and pulse until a fine flour. Drizzle in melted butter or ghee and pulse until a crumbly mixture forms. Pour crust mixture into a parchment lined baking pan (I used 8x8) and press down to form crust.
For the cheesecake
Add all ingredients but sprinkles to a mixing bowl. Using either a standing mixer (recommended) or a hand mixer, mix for at least one minute, or until mixture is incorporated. Gently fold in sprinkles. Pour batter on top of crust mixture. Bake for 30 minutes. After baking, let cool for 10 minutes then pop in the fridge for several hours or overnight (recommended). Pull bars out by pulling parchment out of pan, and slice into bars. Add more sprinkles if desired. Keeps in the fridge in an airtight container for 5 days. Also freezes well.