Crispy Pork Belly Tacos with Peach Mango Salsa (Paleo, Nut Free, Dairy Free, Gluten Free)
Happy Cinco de Mayo!! Cinco de Mayo MIGHT be my favorite holiday (I think I say that about every holiday🤔) and signifies the beginning of SUMMER to me. It's no secret that I love Mexican food, especially tacos! They're so versatile and you can literally put anything in a taco and make it delicious. For this Cinco de Mayo I decided to get creative and make pork belly tacos with a fruity salsa.
I had the most amazing pork belly tacos in Colorado and I've fixated on them ever since. Then I saw pork belly at Whole Foods and I knew what I had to do. The pork belly has a long cooking time, but its almost completely hands off. So don't fear- easy peasy, lemon squeezy! I know you don't have time for a 3 hour cooking sesh, because I don't either!
We've all had mango salsa, but I wanted to make a twist on it. If you can find local peaches (especially here in Arkansas😍) this salsa will be even better! The cold salsa mixed with the hot fatty meat is just too good! It's perfect for a backyard party and I know one thing for sure… you will LOVE these tacos!
Crispy Pork Belly Tacos
prep time: 5 M
cook time: 2 H & 10 M
total time: 2 H & 15 M
ingredients:
2 lbs pork belly
2t Primal Palate garlic and herb seasoning
1t sea salt
instructions:
How to cook Crispy Pork Belly Tacos
Preheat oven to 200F. Place pork belly on a cookie sheet lined with a rack covered in aluminum foil, skin side down. Bake for 2 hours.
After 2 hours, flip pork belly (skin side up) and cover in salt and broil for 10-15 minutes, keeping a close eye so they don't burn.
Enjoy in tacos with fresh salsa!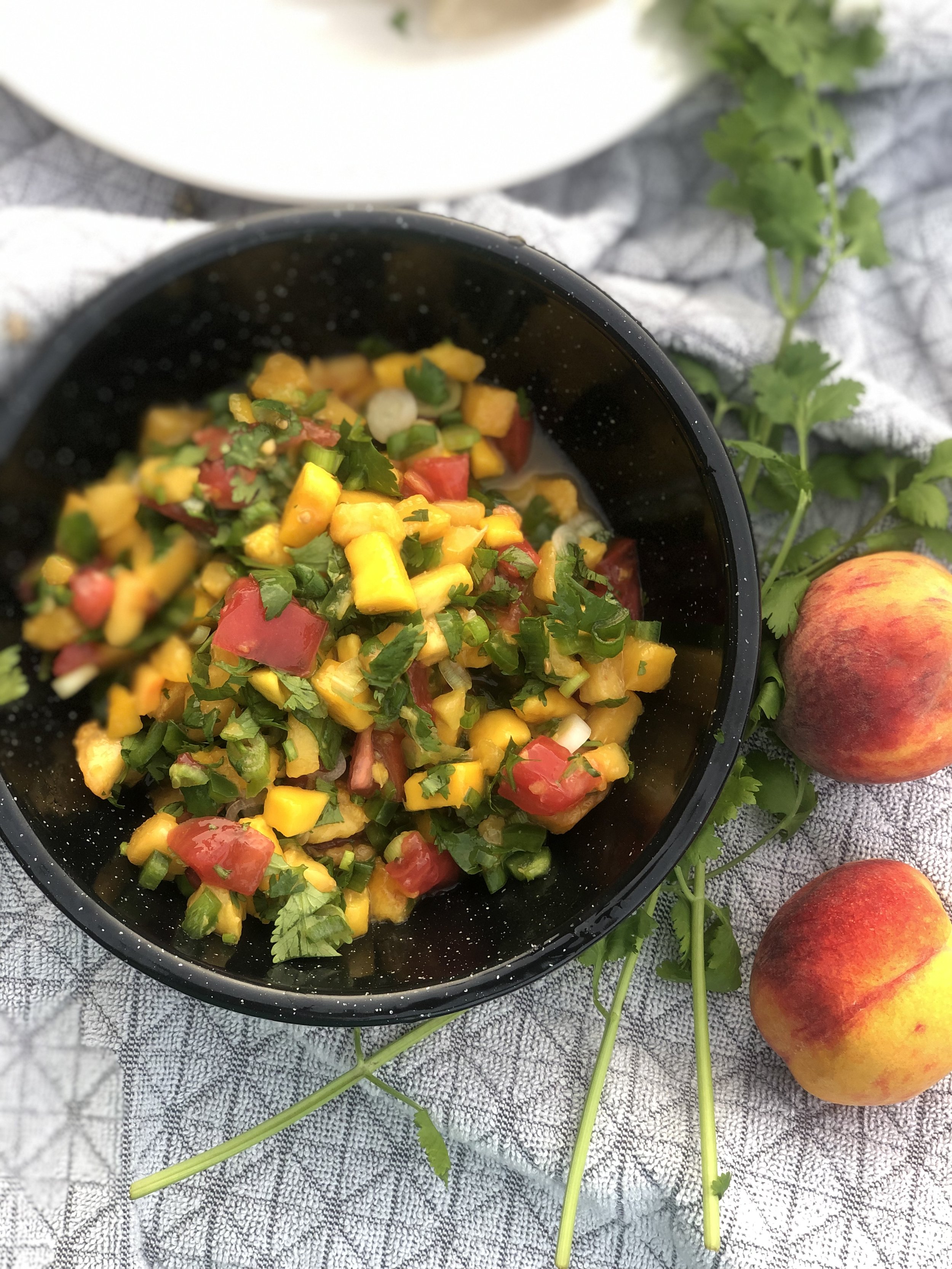 Peach Mango Salsa
prep time: 10 M
cook time:
total time: 10 M
ingredients:
2 fresh jalapeños, or 1 for less spice, seeded and diced
1c cilantro, chopped
4 peaches, peeled and chopped
1 mango, chopped
Juice from 1 lime
1 heirloom tomato, chopped
3 green onions, thinly sliced
instructions:
How to cook Peach Mango Salsa
Add all ingredients to bowl and sprinkle with salt to taste, if desired. Enjoy with chips or on tacos!
NOTES:
The best way to peel peaches: submerge them in boiling water for several minutes, then remove and put in a bowl of ice water. The peel will slide right off.